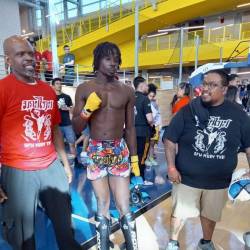 I am a martial arts professional and functional fitness trainer. I have amateur experience in Muay Thai competition. I am primarily a striker but I do have experience training in brazilian jiu jitsu wrestling and boxing. I am a passionate trainer for only serious guys and girls who want to learn or compete.

I DO NOT have any connections to get anyone any fights but I can assist you in preparing for competition or simply learning to defend yourself. Looking to network with other Martial artist who are serious about keeping the spirit of Martial arts alive for this generation.

-IKF (International kickboxing federation) PKB/PMT Muay Thai Sparring Tournament. *2017 *2018 *2022. (Georgia & Texas).
-Trainer & Programs Director @ Premier Martial Arts. Houston TX.
- Former Manager @ 9Round 30min Kickboxing. Houston TX (2022).

If you just want to train we can link up but if you are looking for an actual dedicated trainer or sparring partner we can talk business as well.
---